Communication is one of the most unrecognised skills within organisations, but can have an outsized impact on how your business develops. As the Harvard Business Review notes, 'Essential Experts', or professionals with key functional skills such as communications, are some of the most overlooked hires for companies – especially those within technical and life sciences fields [1]. Yet, the role of communications is integral to building a brand, to define your purpose, your positioning. It increases your reach and visibility, the opportunity for collaborations and partnerships and creates momentum attracting talent as well as client and investor buy-in. [2,3].
Defining the communications role
A communications position is more than running a firm's social media accounts. With the objective to generate stakeholder engagement, it entails internal and external communication. Communications is a two-way street building your reputation. It serves the aim to gain client and employee commitment by informing about new developments, improving communication exchange through processes and positive experiences with your business to seeking alignment. Information exchange coming from your company distinguishes your brand purpose and positioning from your competitors using your owned, earned and paid media channels including your website, your social media channels, press relations, newsletters, and your advertising plan all managed through a predefined content strategy [4]. Involving internal teams inspires and motivates your workforce and creates alignment. It evokes a sense of ownership valuing accomplishments, purpose, benefits [5].
How can you communicate effectively?
If you find yourself unable to immediately bring in one of these 'essential experts', here are a few tips for you to follow.
Step 1: Create your communications strategy.
Develop a plan that considers who you wish to speak to "your audience", your message tailored to your audience, and what you want to achieve. Ask yourself:
Who is your audience?
What do you want to share?
What action do you want your audience to take?
When do you wish to share what?
Iidentify where you can interact with and reach your audience. Build your strategy based on how you wish to communicate with your audience, the tone of voice, the images reflecting your brand, your purpose and values. Analyse your competition and look at how your competitors are using their communications channels. How is information being presented? What is the tone they are using, informal or punchy? Is it detailed technical analysis? Is it visually attractive or text-heavy?
And finally: Test it! Do you get engagement?
While you might be tempted to do the opposite of your competitors, it is easier in the short-term to keep things simple and follow their lead. Once you started to develop your preferred communication style, your identity and better understand your audience, you can slowly shift to a new strategy.
Step 2: Develop your content
A basic strategy involves you sharing your information and news, your content, with your audience tailored to their needs and to generate engagement. Keep it simple, and follow these basic ideas:
Be creative and test various formats
Leave jargon and technical language to a minimum
Use examples that your audience can relate to
Keep it short, and use visuals in form of images or videos
For more complex topics, lean on real-life examples, relate to specific happenings and occasions and help your audience identify with the subject matter.
Step 3: Identify the medium to share your content
There are multiple ways of communicating, and you should endeavour to use as many different channels as possible to reach the maximum amount of people – social media, blogging, newsletters, press, etc.
Owned media channels are your own platforms, such as your website, your social media channels, your newsletter or blog.
Earned media channels are the ones which "earned" recognition by external communicators such as bloggers, journalists and influencers.
Paid media channels are the ones you paid for in particular for advertising.
The use of social media channels requests some careful analysis. They must be differentiated according to the audience you wish to speak to.
Some media channels are only used by a specific audience. For example, your audience ages between 30 and 50 years preferers Facebook, however, a generation between 20 to 30 years of age feels more acquaint with Instagram.
Equally, B2B is best advertised on LinkedIn or newsletters, consumer products on social platforms like Instagram and Facebook, science and technology generally leverage blogs and press.
Step 4: Keep an online presence!
Results will not be immediate. It takes time to build engagement with an. The trick is to keep communicating consistently.,. Potential partners, customers or employees will look at your communication channels before engaging with you, and a lack of information may be seen as a red flag. It is better to post sporadically than not at all.
But what about internal communications?
When communicating internally with your employees, ensure that you reach everyone, frontline workers as well as office employees.
Deliver your messages and information during working hours and avoid mixing private and professional communications channels, e.g. WhatsApp. Ideally, develop an intranet which can be used as an App on mobile devices. Create internal communication processes, encourage a mentality to share information valuing creativity, courage and engagement.
Communicate regularly across numerous channels, offline as well as online. Let your internal teams know new developments as they happen, keep them engaged by involving your workforce into strategy building and feedback processes, provide opportunities to step up, engage and develop their skills, opinion and interests. Your workforce and teams are the best ambassadors you can develop for your business to flourish and build your reputation externally.
Find your 'essential expert'
The best way to ensure that your communications are effective is to find your 'essential expert'. Professionals within this space have all the tools, experience, and skills to provide you the communications you need. Are you in the market for an expert? Reach out to LEAD-WiSE today to find out how we can help you.
Key Takeaways
Communication is one of the most under-appreciated skills within organisations, but can have an outsized impact on how your business develops;
Effective communication revolves around knowing your audience, what they want, and how to reach them, internally, you must be in tune with employee needs and values; and
The best way to ensure that your communications are effective is to find your 'essential expert'. 
References
[1] Lynn Cowart, Cile Johnson, and Beverly Kaye, 2018, "The 3 Essential Jobs That Most Retention Programs Ignore", Harvard Business Review.
[2] Robin Adair Erickson, 2015, "Communication and Employee Retention", The International Encyclopedia of Interpersonal Communication.
[3] Young Entrepreneur Council, 2021, "Nine Important Lessons Leaders Have Learned About Customer Communication", Forbes.
[4] Michael Georgiu, 2021, "How And Why To Build Brand Authenticity", Forbes.
[5] Vincent Diringer, 2022, "Purpose-Led, Value-Driven – What else?", LEAD-WiSE.
Excerpt of an article of the UN Global Compact
Customers are driving a trust-based revolution and demanding that companies lead with their ethical and environmental values.  
Leading brands such as Salesforce, Accenture and RBI (a conglomerate, which owns Burger King, Popeyes and Tim Hortons) have already shifted their marketing and advertising with the message of creating a more meaningful world for consumers. In a roundtable conversation during Uniting Business LIVE these brands advocated amplifying ethical values and commitments towards diverse communities, the environment and the world.
The ethical buying values of new consumers
Shattering the misconception that business can either be 'for good' or 'for-profit', leading brands argue that the intersection between purpose and profit is crucial for company resilience. Moreover, keeping the Sustainable Development Goals (SDGs) at the forefront of business branding and marketing conversations is also beneficial to the companies' bottom line.
A study highlighted by Accenture said during the next thirty years, baby boomers' 68 trillion dollars' worth of wealth will be passed down to the newer generation of consumers who hold stronger ethical buying values. Over sixty percent of the new generation of consumers are attracted to brands based on the brands' ethical values and purpose. The study concluded that customers, particularly those customers of the future, care deeply about how the products they use are manufactured and whether the labor practices are fair and sustainable.
Simply put: consumer demand for purpose-driven brands means that companies who amplify their positive social and environmental impacts will also maximize their revenues. "The bottom line is that having a purpose is good business," said Brian Wipple, CEO of Accenture Interactive. "It is the business of the future!"
Marketing the SDGs
While consumers' buying values and companies' bottom lines increasingly hinge on ethical considerations, the SDGs provide solid anchorage for companies looking to do good.
Working simultaneously to strengthen their brands and advance social and environmental issues is paramount for companies, said Fernando Machado, CMO of Burger King. "One strengthens the other!"
The brands in the RBI conglomerate have embraced the SDGs. As its #BKMeltdown campaign showcases, Burger King is working with suppliers to ban plastic in meal toys and lessen the company's carbon footprint. "We made the commitment that by 2025 we will remove [meal's] plastic toys from all across the globe," said Machado.
Salesforce has also used the SDGs as a guiding tool and committed to the active pursuit of seven SDGs they can implement in their business and philanthropic operations. Last year, in pursuit of SDG 8 – Decent work and economic growth – the company pledged to train half a million workers for the jobs of today and tomorrow through training and re-skilling programmes. Stephanie Buscemi, CMO of Salesforce, praises the SDGs for inspiring and guiding the company's ethical action. "We see that the UN Sustainable Development Goals really just inspire us as an organization," she said. "We've adopted your framework, and it helps to guide us."
The future of marketing and advertising
Marketing can drive sustainable growth by the creation of compelling experiences at the intersection of purpose and innovation. Hence, effective advertising depends on helping companies create a more meaningful world for their customers by identifying a social purpose. Dave Kingsbury, Chief Strategy Officer of Global Brain, agrees. "We need less frivolous advertising and more purpose-driven!"
It is marketing's role to showcase how their products might solve social issues given different social contexts. For example, while using a mobile-doctor app might appeal to busy Londoners for the convenience of accessing health care advice in the middle of the workday, it also appeals to rural Rwandans who would have to spend an enormous amount of time and financial resources to access doctors in a city.
As the future of marketing lies in creating experiences that make consumer's lives not only efficient but also meaningful and robust, the role of marketing executives is also evolving. To deal with the demands of the new generation of consumers, Chief Marketing Officers (CMOs) should strive to align product and purpose, amplifying ethical values and commitments.
CMOs are also in a position to assess the company's purpose and the actionable programmes in place. "The CMO can really take the company in a positive way to task to say 'what are those programs? Are we investing enough or are we doing enough across the organization?' said Salesforce's Stephanie Buscemi.
The new consumers of the world, who are also the future of the world, demand and deserve higher social and environmental ethics from companies. Marketing needs to shoulder more of the responsibility to solve some of the world's existing problems by aligning purpose and innovation, ethics and business.
It is International Plastic Bag Free Day, an event that gives us the opportunity to spread the word about alternatives to single-use plastic bags while protecting biodiversity and ecosystems. This day also serves to raise awareness and to offer learnings about the challenges facing the environment caused by plastics and innovations being developed to solve them. With the UN Plastics Treaty recently negotiated in Paris, we would like to discuss how organisations can collaborate with local communities and businesses to improve environmental and socio-economic health [1-3].
In 2019 alone, 353 million metric tons of plastic were produced. This is compounded by the fact that roughly 15% of this waste is recycled back into the economy. The majority of this plastic finds its way into the oceans and landfill, which showcases an issue that has been lingering for decades [2]. The scale of plastic pollution is immense and causes wide-ranging issues at environmental, economic and human health levels. Tackling such a problem is not easy, but institutions and coalitions such as the Plastic Pollution Coalition or the Ocean Cleanup have for goal to raise awareness around the threat of single-use plastics and claim to rid the oceans of plastic by 2040.[3].
With 80% of plastic waste being brought into our oceans through rivers, research shows that the challenge exists across the world including high-income economies such as countries of the European continent. When we examine our local streams and lakes in Germany or Switzerland, we learn that plastic pollutes our ecosystem in the same way it does in Asia, Latin America or Australia. Indeed, it is often not as visible, but it exists and threatens our local biodiversity, water quality and environment.
To cite a few examples, environmental analysis confirms that Lake Leman in Switzerland is filled with 55 tons of plastic every year [4]. Equally, the Rhine River crossing Europe from the Alps to the North Sea has up to 892,777 particles per square kilometre, one of the highest densities worldwide [5].
But how can small, medium, and large enterprises in Europe and worldwide contribute and help to clean the local and global water systems?
Two important ways can anticipate these challenges:
Partnerships and collaborations are important to actively test and trial the status quo and generate impact by raising awareness, by innovating operational processes and by educating clients, collaborators and suppliers [6]. As part of the sustainability engagement of each company, firms can partner with local authorities to support the effort for plastic to land in the water and to be collected from beaches and river sides. Through community engagement efforts, businesses can encourage their team members to support waste collection and volunteer work to support a flourishing community [7].
Equally, small, medium and large enterprises can undergo an audit of polymer materials to determine where to eliminate and substitute plastics within their operations and premises. Single-Use plastics, PET and microplastics can be avoided by reusable or degradable products. Unavoidable plastic waste should be recycled and not be put in waste bins under desks. With environmental best practices and internal waste and recycling policies, businesses can educate their teams and raise awareness. Simultaneously, environmental targets and goals can be included in employee reviews and considered an organisational value which will drive stronger employee engagement and commitment.
Key Takeaways:
Plastic waste is a global issue, polymer material and microplastics generate significant challenges for Europe's biodiversity, water quality and our environment.
By partnering with local authorities as well as by implementing internal environmental and waste policies, small, medium and large enterprises can help to reduce plastic waste.
Engage your workforce to innovate internal policies and share best practices to reduce plastic waste in your internal operations.
References
[1] Valerie Volcovici, 2023, "After rough start, UN plastic treaty talks end with mandate for first draft", Reuters.
[2] United Nations Environment Programme, 2023, "Turning off the Tap. How the world can end plastic pollution and create a circular economy".
[3] The Ocean Cleanup, 2023, "About".
[4] Plastic Oceans, 2021, "Plastic Pollution is overwhelming Europe's Lake Leman".
[5] University of Basel, 2015, "Microplastics: Rhine one of the most polluted rivers worldwide".
[6] Vincent Diringer, 2022, "Circular Economy, Opportunities for Innovation and Collaboration", LEAD-WiSE.
[7] Vincent Diringer, 2022, "The Importance of Sustainable Business Models", LEAD-WiSE.
Environment, Social, and Governance (ESG) planning has become a major part of purpose-led businesses keen on having a positive impact on their community as well as the environment they operate in. At a base level, Deloitte defines ESG as capturing "all the non-financial risks and opportunities inherent to a company's day-to-day activities", or finding ways of improving all three pillars of ESG within and adjacent to an organisation's operation [1].
However, ESG was until recently a voluntary action. Spurred by the increased awareness of shareholders and consumers on key sustainability issues such as gender equality, diversity on boards, environmental behaviour and fair practices throughout supply chains, ESG has become a more prescient force within businesses' decision-making.
In late 2022 the European Parliament voted to report on ESG data for small, medium and large businesses to make corporations publicly accountable [2]. From 2027 onwards, on top of their financial reporting, firms must now declare other important indicators of internal sustainability, including but not limited to the number of women in managing positions, their CO2 emission and offsetting, their waste management or impact of supply chains. Financial reporting no longer suffices.
This shift to become a purpose-led business is creating new opportunities that provide a comprehensive, positive impact to both companies and the community they operate in and serve. It is a holistic value creation including creating jobs, increasing tax revenue and raising standards of living to mention a few. These goals are part of a co-creation with the community rather than an ESG "box-ticking" exercise. [1, 3].
What are the community-building opportunities with the ESG framework?
Purpose-led organisations consider the impact of their operations beyond the financial bottom line. An ESG framework requires companies to review their engagement within their community on several levels. It provides them with the chance to actively involve themselves and collaborate with local communities, consider their needs, perspectives and aspirations. Corporations with larger scopes and size get involved with governments, civil society and other stakeholders to collaborate and generate positive impact on a larger scale. Large or small, some key principles are to be respected in all scenarios:
1. Purpose
Before engaging in activities and collaboration, the company needs to have a clear purpose defining the impact it wishes to have. The purpose will define what's important for the company and its community to engage in, helps to define the values of the organisation and will gain engagement by its employees, when defining the purpose, companies need to include the social and environmental development on top of economic growth.
2. Inclusivity and community engagement
Inclusivity is a must for a successful business. As the consultancy firm Gartner rightly stated [4]: "Teams that are diverse in gender and highly inclusive perform 50% better than teams that are only diverse." Inclusive behaviour starts with including all stakeholders in collaboration and decision-making despite their backgrounds, cultures and socio-economic statuses. For employees this could mean offering hybrid work environments and support for working parents in managing their work-life balance. Another example is including frontline workers in white-collar projects and using multiple communications channels as not everyone has access to a computer or mobile device.
3. Transparency
With collaboration and communication, transparency has a big part to play. Transparency allows not only to develop psychological safety for employees and partners within community projects, but it is also important to build your reputation.
Good stewards of capital and values, purpose-led organisations communicate about their data and report on their sustainable progress today. Shiny statements and bold declarations no longer suffice – there must be reporting and accountability.
4. Partnerships and community development
To address and contribute the society's most pressing issues, companies seek to collaborate in partnerships to find solutions for specific matters.
For example, to upskill talent within their communities, some organisations create training programmes or offer scholarships. This can help the company address shortages in skilled personnel, but also creates jobs in the local community.
5. Long and short-term perspectives
Every strategy addresses long and short-term perspectives. Short-term perspectives are often of a financial nature. Social progress requires more time and is considered long-term. When establishing an ESG framework for your company, community development and engagement require careful planning, structuring of operations and monitoring of impact versus community needs can take years to implement. The benefit to stakeholders may take longer, but the impact can be profound.
Developing the Right Solutions
"Every corporation has the potential to favourably impact specific groups of people," explains Sabrina El-Chibini, CEO at the Collaboration Vector [5], "Social impact can be evaluated through the collection of quantitative and qualitative data that together paint a full picture. It encompasses an increasingly interrelated set of employee and community indicators that extend beyond amount of money and time invested, towards an understanding of the overall value generated. This supports a hypothesis that company performance correlates directly with value generated for people."
What this means is that the best to implement ESG is to collaborate with your local stakeholders within your community. Listen to their needs, identify the gaps you are able to address in the short medium, and long-term either with your own means or through collaboration with other entities in the area, build an ESG policy that takes into account the community you directly impact on top of the consumers and employees you seek to attract. With an increasing number of consumers aware of sustainability issues across a range of sectors and the active transition to responsible operations, ESG provides your business with an opportunity to develop the right solutions for yourself, your clients, your community, and the world at large.
"Today, responsible businesses and savvy profit-seeking ones know that if they wish to attract high calibre employees, business partners and customers they must walk the walk and not just talk the talk about the environment," notes Linda Todd [6].
Considering the positive effect of ESG on a purpose-led company's bottom-line, the argument is two-fold: enabling sustainable development is popular with clients, employees, and local communities. Firms of any size can have a positive effect on society, ESG policies are not limited to the Deloittes and McKinseys of the world. Small and medium-sized enterprises are often times in a better position to have an impact on their local community than many realise [7].
Have you thought about how your ESG policies could be maximised impact on your business and your community?
View our latest video in this subject: https://youtu.be/65YEv6d52kE
Key Takeaways:
ESG reporting will be mandatory for all small, medium and large enterprises as of 2028.
Undertaking ESG creates positive value for companies, but the primary focus should be on the communities targeted by ESG plans rather than 'box-ticking' [2, 3].
Companies stand to gain from enabling sustainable development and adopting strong ESG measures [2-6].
The best way to implement ESG is to collaborate with local stakeholders within the community: listen to their needs and identify the gaps you are able to address.
References:
[1] Deloitte, 2021, "#1 What is ESG?"
[2] European Parliament, 2022, "Press Release – Sustainable economy: Parliament adopts new reporting rules for multinationals"
[3] Witold Henisz, Tim Koller, and Robin Nuttall, 2019, "Five ways that ESG creates value", McKinsey
[4] Christy Pettey, 2019, "Embrace Gender Diversity in Security and Risk Management Roles", Gartner
[5] Sabrina el-Chibini, 2021, "The Social in ESG: aligning corporate, community, and investor interest through a common framework.", LinkedIn
[6] Linda Todd, 2022, "ESG – not simply a box ticking exercise", LinkedIn
[7] Wai-Shin Chan, 2022, "The importance of ESG for SMEs", HSBC
Access to education is a human right and has an amazing potential to improve a community's long-term prosperity [1]. As such, teachers have a major role in the improvement of society. Improved education on climate and environmental matters at all levels of schooling have empowered young people to take action on these issues. Additionally, new educational pathways, styles, and projects are actively being developed to provide upcoming generations with a multitude of options focused on providing them with the most efficient and interesting educational experiences [2, 3]. We talk with Kenny Peavy, an author and outdoor educator at the Green School Bali, who provides us with his insights into what sustainability means for teachers and students.
[Vincent Diringer] Thank you for joining this interview today Kenny, I'd like you to introduce yourself, and tell us a bit about what you're doing and then we'll start the interview.
[Kenny Peavy] I'm really excited to be here and have a chat! I'm originally from the United States, I've been living, working, and teaching overseas since the year 2000, so 23 years now, in various capacities – international schools, outdoor adventure trip leader – currently I'm at the Green School in Bali where I teach a mix of all of that. I do a bit of math, a bit of science, nature, some English as a second language and once in a while I run some adventure camps.
That's really interesting, so what exactly is the Green School Bali? You mentioned it a bit there, but it sounds like there are a lot of things happening within the curriculum.
Yeah, as you can see in the background, I'm in one of the bamboo houses, one of the hallmarks of the Green School is that it's a sustainable campus. All the buildings are made out of bamboo and thatch roofs, they're open air and we have a permaculture campus with lots of organic gardening, quite a bit of forest and even a river that runs through our campus, so that's where we start on campus and everything goes from there for sustainability, for outdoor education, for connecting with nature. Like you said, there is quite a bit of flexibility in the curriculum, because we can get the kids outdoors easily and we have lots of connections to nature – we might be one of the only campuses that has chickens, pigs, and cows, gardens all on our school campus.
That's fantastic, so how do you think that the approach, the closeness to nature helps with the children and the students – do you think that it's a positive? Does it add to the education aspect of the school?
Definitely, you can step right outside of your classroom and do various science-type experiments: checking the types of soil, connecting with the river or just seeing different leaf shapes. There are a lot of ways to connect with nature, but it can be a distraction at times, we get several snakes on campus and once in a while a lizard will drop from the ceiling – things that don't happen in your normal school campus, but you can just be flexible with it, go with it, I try to turn those moments into something teachable, especially when we find a cool snake or a frog hops into the classroom, or a lizard drops from the ceiling, we just stop what we're doing and notice.
That's really interesting, so what exactly is the Green School Bali? You mentioned it a bit there, but it sounds like there are a lot of things happening within the curriculum.
For me personally, there are a couple of different definitions, one is, first and foremost, a deep connection with nature – so, that's really what I'm trying to do, is get kids outdoors: playing, discovering, learning, having hands-on direct contact with nature and the hope, there is that once they have a direct contact, they'll be motivated to take some sort of action for conservation, that's the direct link to sustainability.
I think a more general approach is, thinking of future generations and how we can do things that won't impact those generations' lifestyles. One of the big things we have on campus is, no single-use plastics, most of our meals are vegetarian and organic, so expand beyond learning about nature directly, and thinking about lifestyle and how that impacts future generations' sustainability.
Obviously, the Green School is a bit further along on the spectrum in terms of being close to nature, but how do you see sustainability or how should it be integrated into education as a whole?
Going back to what I first said, I do think, it's important for kids to get outside and experience nature directly, so I think that, if schools can do anything like having a nature club, doing Week Without Walls trips, doing adventure trips, service trips, getting outside of the classroom, I think, is first and foremost, which should happen at every campus. If you're not fortunate enough to live in a natural area like an inner city, bringing nature into the classroom is very important, somehow integrating what you might see in your country where you're living in the national parks or in the local parks or just outside on your daily walks, every place has some nature, but some places have more than others.
And so, trying to integrate that I think is, what I'm always pushing for. Get kids out of the classroom, learning, connecting directly with nature and beyond that, trying to do some project-based learning, entrepreneurship, one of the things, I'm a really big fan of is, when we have our integrated study units here at the middle school and kids are learning about various topics through different lenses, through literacy, through science, through conservation, through math and then the Grade 8s have to do a project, where they have to come up with some sort of capstone project for middle school before they get to high school, which has to have a sustainability component. Some of my favourite ones: kids making wallets out of recycled tyres, kids growing their own vegetables and making their own products to sell at the cafeteria – all of those kinds of projects combine under some sort of sustainability umbrella.
That's amazing. I know that's something, that is taking off with universities as well in terms of how to integrate sustainability within a university course – and there are so many different aspects of sustainability as you know – so I think it's important to have kids so young already being brought up in it. You mentioned accessing nature, and accessing that patch of environment if you're an inner-city kid or living in an urban area, you wrote a book called "The Box People" that deals with this subject – can you tell us more about it?
Sure, "The Box People " is an illustrated children's book with the message to 'get out of your box'. It's the story about our current society and how we live in boxes, we eat food that comes from boxes, that is kept in a refrigerator that is a box, we go to a box to work, we go to a box to go shopping, we get in a box – our cars, buses – to get to these other boxes, and then one day our hero, or anti-hero realises he doesn't like this lifestyle so he goes to the park and once he is in the park, he realises, there are no more boxes, he starts feeling good and he feels connected to the planet, the flora and fauna. He has this big revelation that 'Wow, I don't have to live my whole life in this constructed box that society has built around me for my daily life". I think, that's a pretty cool message in an illustrated children's format that rhymes, it's kind of like a Dr Seuss book. I think, it's a good message for the children to hear and see.
You are kind of experiencing this on a daily basis with the Green School in Bali. You are seeing kids come in, and depending on where they have been before being put in a situation like the Green School can be a bit overwhelming, but I think it's fantastic that they are being put in touch with nature – do you have any stories about how you have seen students develop within that role, once they are outside of their box and how they react in a nature setting?
I definitely have, especially when we do our camps and schools come in from big cities like Beijing, Kuala Lumpur, Singapore, you know these big urban areas. The first day they're afraid to sit on the ground, they don't want to get dirty, they're really worried about something out in nature that might get them, bite them, and we get a lot of questions about that. By the end, you know they move – and it's a term I've been talking about lately – they move from biophobia, the fear of nature, to biophilia, a love of nature. So, they're a bit biophobic at first, they don't want to get dirty, they're scared of sitting on the ground, they're afraid of insects, ants or whatever they see on the trees. Then by the end, they're really curious, they're not afraid, they don't want to go back, they want to stay here and are happy to roll around in the dirt, play in the mud and be kids, what I think kids should do. I've definitely seen it quite a few times.
It speaks a lot to non-traditional learning, the 'Box' of academic institutions. Do you see progress going forward with students, do you think sustainability is playing a greater role – whether that is through environmental, equality, gender?
Yeah, I definitely do, a big testament to the students and to the teachers, post-COVID lots of students were dealing with social and emotional issues. They'd been locked up for a couple of years, they hadn't had a lot of contact with each other or with nature. Last year was a rough year, it was a transition year, because people didn't know what to do, they hadn't been in school for a couple of years, they'd been locked in their houses and apartments doing online learning. This year I've definitely seen an improvement, where there is more of a community feel connecting people and students, connecting more with nature, getting outside more. I've seen that over the past three years, where two of those years we were in a lockdown and now we're able to connect with each other again and with the planet. I'm seeing progress in that. Gender equality is coming up more frequently, more often and those conversations are happening and I'm happy to see, that as well as conversation about how we can connect the kids with the natural world a bit more, how we can live more sustainably, our choices as consumers. Some of the projects I've seen are very cool in terms of kids wanting to, as I said earlier, make wallets out of recycled tyres and furniture out of recycled surfboards, they're already thinking in those directions which I think is a lot of progress.
If you had to give any advice on how to integrate sustainability to another teacher, someone who is not at the Green School Bali, but in an urban setting, what would you recommend?
Sustainability is like a buffet, you've got to try different things and see which ones you like. For me, I love nature and the outdoors and science – I'm a science teacher – I'm going to gravitate towards ecology, rivers, seagrass beds and reefs, and getting out there and doing recreational things like swimming or mountain biking, kayaking, snorkelling, and then trying to learn about those. But that might not be for everyone – so just going out and seeing different lifestyles. Learning about different cultures, religions, food, languages, and traditions, these are all ways of connecting with other people. Just try different things. How I learned, was by volunteering with the Malaysian Nature Society when I first came to Malaysia, I had no idea about tropical ecology or rainforests, all my training had been in eastern deciduous forests which is a very different type of ecosystem than a tropical rainforest. So, I just told people, 'Hey I'm ready to volunteer, I'm here to learn' and that's how I got more expert on Southeast Asia, it was just being curious, going out there, joining groups – birding groups, hiking groups – and seeing what other people had to say.
So, collaboration? Going out there, experiencing things, helping others – I think this is very important and I know, it's something, we talk about with LEAD-WiSE meaning discovering your own sustainability journey. You want to be sustainable, but sometimes it's easier to have a greater impact, if you start networking and collaborating with other people, and sometimes it's never the ones you think – a different business, person, or industry entirely – but you realise, you have so many things in common, that can help build to a more sustainable community.
Is there anything you would like to end with?
I love teaching and learning, I love getting outdoors and I think the best thing for all of us is to get out and have fun – whatever, that might be for you. Some people like hiking, hanging out on the beach or mountain biking, but get outside. There is so much research about the benefits of nature for physical help, mental help, socio-emotional help – just getting outdoors connecting with nature, with some friends, you're connecting with people, but then you're connecting with yourself, that's the main goal. Go outside, have fun, stay curious and keep looking around and learning.
Reference
[1] UNESCO, 2023, "The Right to Education".
[2] UNESCO, 2022, "COP27: UNESCO launches global survey report on youth demands for climate change education & mobilizes stakeholders for the Greening Education Partnership".
[3] James Ellsmoor, 2019, "Environmental Education Will Shape A New Generation Of Decision-Makers", Forbes.
Writing a newsletter can be daunting. Not only do you need to know your audience, you also want to choose a newsletter supplier for the fact of accessing important features such as a mailing list manager or to measure the impact of your content including your opening rate. We collected a few tips to get you started with your first effective newsletter. Enjoy!
Identify your audience and draw them in
It is imperative that you identify the audience you are trying to reach. For commercial entities, the newsletter's audience consists of the customer base. For a non-governmental organisation (NGO) donors, partners or impact investors are targeted, while an association addresses itself to its members. Make sure you know who your audience is, as this will help you spark interest and engagement through your content.
Thanks to your components, your audience engages, feels inspired, learns and remains loyal to the author, your brand. It helps you grow your stakeholder base, no matter if you are a commercial company or an NGO.
Find the right hosting service
There are several hosting services that you can use for your newsletter, each with its own pros and cons capable of complementing your own skills and needs. Most hosting services integrate with other parts of your business or client relationship management tools, making them a versatile addition to your organisation. Many e-mail marketing tools offer free subscriptions for starters with a small number of subscribers or limited emails to be sent. When you upgrade to the premium version, you have more options in design and functions to choose from and the provider's logo will not be shown. With the GDPR regulations it is important to remember that an e-mail marketing tool not only allows you to manage your existing data flow, it also handles subscribers who unsubscribe. You want to make it easy for them, to stay professional and respect their decision by recording their choice in your system. Nothing is worse than being listed as SPAM. It affects your reputation and your opening rate. We compiled a list of Europe's main hosting services for you below:
Mailchimp is one of the most popular newsletter hosting services and it specialises in email campaigns, list management, and transactional emails.
Sendinblue is a cloud-based marketing communications suite, it provides an upgraded range of tools that can be used for all aspects of digital marketing.
Mailerlite has a user-friendly interface and digital email marketing service offer automation and landing pages.
Hubspot – via whom we, LEAD-WiSE, operate – is another major client relationship manager and comprehensive digital marketing tool that is well-established in the sector.
Hosting services show how effective your newsletters are based on open rate for 25%+ and click rate of 2%+ respective to your industry [1]. Where possible, try to direct newsletter readers to your website or social media content through calls to action.
Determine your tone of voice
Now that you know who your audience is and how your newsletter can provide value, the next step is your writing style. While it is standard practice to have the brand guidelines dictate how the newsletter should feel – text fonts, colour schemes – you determine the tone and voice of how you wish to address yourself to your audience. It is a consistent style which reflects your brand.
When reflecting on the tone and voice of LEAD-WiSE, we use conversational speech, which provides clarity and simplicity. We like to play with language to bring joy to our work without taking ourselves too seriously. Showing empathy and wit in our voice engenders engagement, interest and expertise.
At LEAD-WiSE, we are plainspoken. We use a language that avoids inflated speech, which upsells or over-promises. We like to use simple writing, clear and to the point above all. LEAD-WiSE is practical, avoiding distractions like fluffy metaphors.
We are genuine. We get small businesses because we are small too. That means we relate to customers' challenges and passions and speak to them in a familiar, warm, and accessible way.
We are practical. Through common, logical sense, we demystify B2B-talk and actually coach our audience.
We educate. Our sense of leadership is clear and evident-based, smart but not snobbish. Being innovative and collaborative, we inspire and work together to facilitate practical implementation.
Lastly, at LEAD-WiSE we write in an active voice and avoid slang, jargon and negative language.
Build up your content
Your content should reflect the purpose and services of your business and organisation including news about your team, activities and events your brand is involved in – whichever is the main draw for your audience – and provide opportunities for your readers. Your audience engages with substance when it creates added value. This can be articles, video content, interviews and reviews including research articles with new findings and data, impact and case studies featuring your products or services, insights and highlights about your organisation itself, announcements about events or company news or simply a job offer.
Having some form of exclusive content can help retain your readers, as well as increase the trust levels in your brand. It is key that the narrative of your newsletter meets the values and vision of your brand.
Frequency, weekly or bi-weekly?
There is one rule: Regularity is key. Updates can be posted monthly, while product spotlights and interviews could be every two weeks. You decide on the frequency of your newsletters, as long as the content remains relevant to your audience, with newsworthy, fresh and witty content!
Now, off you go! Starting fresh and for the first time is the hardest. With the experience to come, feedback from clients and a little benchmarking about what the competition does, you will succeed. Should you have questions or wish feedback on your newsletter, contact us. We are happy to share our wisdom.
References
[1] Campaign Monitor, 2023, "What are good open rates, CTRs, & CTORs for email campaigns?", Marigold.
Whether it is at a corporate level or a blue-collar environment, women continue to face major issues in equitable integration and opportunities within the workforce [1, 2]. Bridging the gender gap, achieving fair wages, and ensuring more representative demographics at leadership levels are key. This International Women's Day, LEAD-WiSE brings you the insights of Cynthia Hansen, Managing Director of the Innovation Foundation, and their work on these issues that underpin those very challenges.
[Annabell Cox] You do a lot of exciting projects and one of those is getting women back into the workforce and I'd love to hear a little bit more about this project you're running. What are the reasons women are taking career breaks? Why do we have that gap?
[Cynthia Hansen] We've actually done a lot of looking at why women drop out, and there are a lot of different reasons, but I think for the most part it comes back to balancing all the different demands on you in your life. In a lot of cases, it's caring. The statistics show hugely that it's usually caring not just for kids, but also caring for elderly parents or for people with disabilities, other people in your life… And so caring is one of the biggest reasons, but I think it comes down to not just caring – it's kind of a surface-level issue. It's more about how you can balance the different demands of your time in a way that suits you. Ultimately most of the people we see, women in particular, are dropping out for that reason.
Is there a specific age group?
We find that a lot of women drop out at that age of say between roughly 25 and 45 when they have school-age kids. That's not the only reason, but that is definitely a trend that we see throughout the world. We did a couple of pieces of research last year, they were specifically looking at why women drop out and the kind of hidden target audiences within that, because it's not just women in general, but also we're seeing that women at either the bottom end of the age range or at the top end of the age range tend to drop out at higher rates and women in mid and low skill demographics also tend to drop out. Women with caring responsibilities also drop out, but the trends are really across the board.
What kind of concrete actions could small and medium enterprises put in place in order to welcome women or avoid women dropping out within those age groups you've just mentioned?
I think for SMEs, it is particularly hard, because a lot of those provisions that bigger companies can put in place, are really expensive. So, if you look at the returnship programs that exist in a number of big companies, they're geared toward bringing women back in after they have had a career break, but they're focused mainly on white collar, educated, high skilled women and big companies will do that, because that's a premium audience. They want those women back in and so they'll create the glide path, they'll create the programs to come back in with. But if you're looking at low-skill, mid-skill women or if you're looking at smaller organizations, they're often just isn't the ability or the will to invest there. 
So, I would say what SME's can do is actually build this retention of women all the way in from the attraction and the hiring process to the onboarding, to the culture. Make sure that women feel welcomed, supported, that they see the role models at the top levels, that there is this idea from the beginning that it's a 'bringing your whole self to work' situation. That [as an SME], you will work with them to figure out what suits them and to make sure that you can be flexible around the other needs in their life. SMEs actually have more ability to do that as a small organization than you do as a large organization.
We've tried to model this in my own team.
We are a separate legal entity from the Adecco Group. We're clearly very embedded with the group, but we're tiny. Right now, we're seven people, at our biggest we've been 12. I've had people who worked part-time, who worked entirely remotely. We had people who needed to go and work remotely for a month or two because of family issues. For us, it doesn't matter where you are, as long as you're really embedded with the team, you're connecting with people, you're delivering what you're supposed to. We had a colleague who went and worked for two months in Russia, another who worked for a month in Spain for family reasons. That's absolutely fine. So as a small light company, you can make those provisions. You can weave it into your culture in a way that maybe is harder in a bigger established organization.
What are you doing in particular as the Innovation Foundation to accelerate that transition for women going back to work? What is that project about?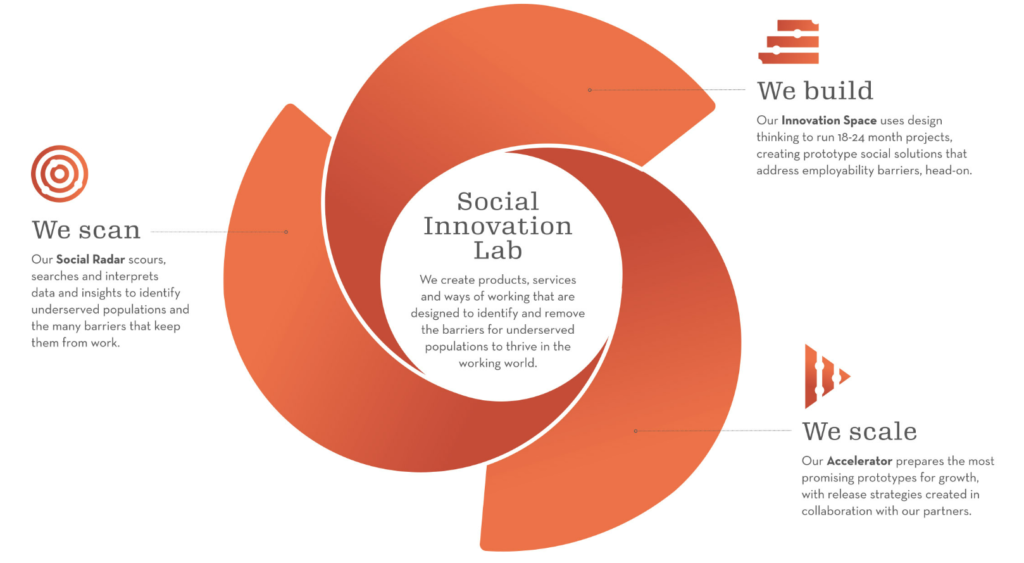 So this is a project that is partway through our process – that thing that looks like a propeller, our process of Scan, Build, and Scale.
Scan is data-driven landscape scanning to help us understand: Who is falling out of the workforce and why, or who's in danger of falling out? So we use that research and that methodology to go from women, which is [a huge dataset], all the way down to women who are in low-skill, mid-skill jobs who have had a career break of over a year, excluding maternity leave. So this is not just maternity leave, but really being out of work. We're looking at the age range of roughly 35 to 45. That's often where women will have caring responsibilities either for kids or for parents. Then, we've decided to do the place-based solution in Spain. This is where we get down to: what are we solving for and for whom?
Now, we go into Build, which is the second part of that propeller. That's design, thinking based innovation, ideation. So, we've got this fantastic working group that has end users, women from that demographic in it plus organizations, companies, experts, HR people and we're running through a design process. We'll come out with a couple of solutions, they'll take those solutions and it goes into Scale, which is an accelerator that actually builds them into products. 
We'll build a little venture team around each one and then they will have six months and a chunk of money to go out and build an MVP – build that thing – whether it's an app, a platform, a campaign – into a real solution. Then they come back and they pitch to us and if we believe that it's got legs, then they go into another six months, another chunk of money. The aim is to build it up into something that is good enough and test it enough that one of the partner organizations will take it forward. So nothing will ever stay with us.
As the Foundation, we're always building these things kind of as a flywheel that will go out into the world. So that's what we're working on right now. Specific to that idea of frontline workers, mid-skill, low-skill women coming back after a career break, what we found was that nobody was looking at that demographic, nobody was building programs or solutions for that demographic. [What we've created] is basically an incubator, but what makes it different is we're not incubating external ideas or SMEs or startups or even entrepreneurs. It's really whatever comes out of our process and then we build it with the right people.
What drove you to develop this specific idea? Why is that close to the Foundation and to yourself?
So the Foundation is really focused on anyone who is in an underserved population, who is in danger of falling out of work or falling out of work, the focus on women really came from statistics. We were seeing in the wake of the COVID pandemic that women dropped out at a much higher rate and women in precarious situations dropped out at an even higher rate, and as the pandemic started to tail off. They weren't coming back, so we were really interested in why they were not coming back and why are they not coming back into certain industries that need people. Things like hospitality, health care, logistics, manufacturing, retail. And these are all industries that tend to employ a lot of women in that demographic and that need people now. So, we wanted to unpack that and figure out if we could find a solution that would help women who are vastly needed in the workforce to come back in and that would help those industries who need people.
What would be the benefit for small and medium enterprises to get their workforce back and to keep those women into the workforce?
I think a lot of it is about deeply understanding what the needs are of the workforce that you want to attract, and this is actually what we're spending a lot of time in that working group on. So, this is really valuable, maybe even more valuable for SMEs than for large companies because SMEs need to choose their people really carefully and they need to retain them. So, if you can actually take the tools that we are developing to better understand what the needs are of the workforce that you want to attract then you're going to be a more attractive employer. You're going to be able to retain people, you'll be able to develop them and that then allows you as an SME to grow, but to grow with the right people – and you'll probably contribute a lot to your own brands, your company brands as being family friendly or women friendly in general.
Key Takeaways:
Women between the ages of 25-45 are most at risk of dropping out of the workforce as a result of limited care infrastructure systems that leave them with the responsibility to look after children, elderly relatives, or persons with disabilities.
Big companies often have the tools and frameworks in place to bring back women who've had a break in employment, but SMEs have the ability to be more flexible with their workforce and find ways of maximizing staff retention.
The Innovation Foundation works with a range of interdisciplinary stakeholders to build solutions for women in vulnerable positions, providing them with new opportunities to integrate into the workforce on their own terms.
The World Economic Forum Annual Meeting happened as scheduled in Davos this year with some of the world's most influential business leaders, public figures, civil society and academia to set out a vision on what economic growth looks like within today's shifts to purpose-led operations [1-3].
Set to a media background covering mass protests at a coal mine in Lützerath, Germany, major profits from oil companies or even private jets arriving in Zürich for this world conference set the stage to what was happening at Davos: odds combined with reality – yet there are several takeaways from the summit that highlights how change is happening.
Increased Global Sustainability
With back to back UN conferences focused on climate change (COP27) and the protection of biodiversity (CBD COP15) held at the end of 2022, sustainability has been a key talking point for decision-makers. While COP27 yielded mixed results, the CBD COP15 set a landmark deal to protect 30% of the world's natural areas by 2030 by investing in blue and green economies that favor environmental protection [2, 4]. This is backed by a shift by major industrial sectors and a range of economic benefits governments are passing down to sustainable businesses [3, 5]. Having sustainability feature so heavily at Davos, only serves to reiterate how economies are being adapted to work with the environment, not against it.
Small and Medium Enterprises (SMEs) have increasingly sought to future-proof their business by implementing sustainable operations, of which collaboration is one of their biggest tools [6]. With Davos emphasizing a shift at the top, it can facilitate pathways to sustainability for SMEs. "Large corporates must also play a part when it comes to supporting SMEs in skills-building, especially around digitization and helping create the ecosystem for environmental transition, including unlocking financing," explains Agility Chairperson Henadi al-Saleh [7], "SMEs are the bedrock of developed and developing economies. They are at the heart of economic growth strategies for most emerging markets looking to climb the development curve."
Innovation & Private Finance
While collaboration between SMEs and major companies can certainly fast-track sustainability, SMEs are faster and more nimble than international businesses when it comes to implementing change [8]. Experts at Davos unveiled a report highlighting the need for faster regulations from governments to enable big businesses to shift faster, but also to protect and promote how SMEs are finding innovative ways of implementing sustainable solutions using private funds [3, 5]."There is clearly a gap in supply and demand for finance," highlights Caribbean Climate-Smart Accelerator CEO Racquel Moses [9], "There is growing interest from across the private sector to improve the resilience of communities at the front lines of the climate crisis [and] lead to long-term growth."
From the protests at Lützerath to panel discussions at Davos, climate activist Greta Thunberg highlighted how climate action is playing a key role in societal behavior. Purpose-led businesses are helping create a more sustainable future, and upcoming generations are more and more educated as to the risks posed by the current economic status quo [1-3]. Young people are demanding change and are following through. The inherent risk for companies not following sustainability trends or greenwashing will be more costly than the cost of their transition [10, 11]. Consumers are changing, businesses must adapt, and as the first three takeaways highlight, there is an appetite for it at all levels and readily available avenues to explore.
Have you thought about how you can level-up your business to become more sustainable?
Key Takeaways
Sustainability featured heavily at Davos, and highlights how a shift is happening at the highest levels of economic development [2-5];
Innovative and purpose-led SMEs can lead the transition much faster than major companies, but the latter will be able to provide new opportunities once regulations are clearer [3, 5, 7-9];
The new generation of consumers are climate-conscious and keen for change, with activists at Davos calling for more action businesses will need to adapt [10, 11].
References
[1] Vincent Diringer, 2022, "Purpose-Led, Value-Driven – What else?", LEAD-WiSE.
[2] Vincent Diringer, 2023, "The Global Biodiversity Goal Promoting Purpose-Led Businesses", LEAD-WiSE.
[3] Tom Idle, 2023, "Davos 2023: 5 Takeaways for Companies Engaged in the Climate Fight", Sustainable Brands.
[4] Vincent Diringer, 2022, "What is the United Nations Climate Conference, COP?", LEAD-WiSE.
[5] The Economist, 2023, "The Dispatch: 5 key takeaways from Davos 2023".
[6] Vincent Diringer, 2022, "Circular Economy, Opportunities for Innovation and Collaboration", LEAD-WiSE.
[7] Henadi al-Saleh, 2023, "Why big business must support SMEs to achieve economic growth and get to net zero", World Economic Forum.
[8] Laura Chung and Abby Seaman, 2023, "How small businesses are overcoming the challenge of going green", the Sydney Morning Herald.
[9] Racquel Moses, 2022, "Building climate resilience through private finance", the Jamaica Gleaner.
[10] Vincent Diringer, 2022, "Gen Z Challenge Status Quo", LEAD-WiSE.
[11] Vincent Diringer, 2022, "Greenwashing within the Global Business Context", LEAD-WiSE.
Mere weeks after the United Nations climate conference (COP27) ended in Egypt, diplomats assembled in Montreal for another UN conference, this one focused on biodiversity (CBD COP15). Following the mixed results at COP27, the sustainability sector set its eyes on the discussions to be held in Canada, where an ambitious target to protect the world's natural areas and promote green growth was to be tabled [1]. Over a hundred countries pledged their support for the goal which aimed to protect 30% of land and oceans by 2030. Steeped in science, protecting the world's biodiversity would ensure that important natural systems could be maintained, helping mitigate climate change and building sustainable economies in developing nations [1, 2].
As Grenadian diplomat and UN Climate Change Executive Secretary Simon Stiell explains alongside Jamaican Minister Matthew Samuda, protecting local biodiversity could have a massive impact on global goals: "With our nations committing to both land and sea protection we will contribute to the following global benefits:
Safeguarding 500 gigatonnes of carbon stored in vegetation and soils;
Reducing the risk of zoonotic disease outbreaks like COVID-19;
Supporting 30 million jobs and US$500b of GDP in ecotourism and sustainable fisheries;
Restoring depleted fishing grounds and fish populations by 600 per cent; and
Increasing food security and improving local economies. [2]"
While the benefits are clear, heading into CBD COP15 roughly 17% of land and 8% of oceans were protected, further highlighting how ambitious such a target would be [3].
Driving Positive Change
Despite some drama during the negotiations process that put in doubt the viability of the target, a consensus was reached and the 30×30 target was agreed upon, and parties will now work on an implementation process [4]. While this landmark deal is drawing scepticism as to its feasibility, it has undeniably highlighted the demand for nature-based solutions and investments into sustainable economic structures [5-7]. For businesses, this signals a change in momentum favouring purpose-led businesses, as Carolina Klint explains, "Organizations should focus their resilience efforts on expediting green energy, climate and nature investments [as well as] improving employee health and well-being. [7]"
But what does this all mean realistically?
The 30×30 will have a more pronounced effect in developing nations and countries with large biodiversity hotspots, where blue/green economic growth that focuses on protection can be effectively developed. However, this also provides opportunities for companies and institutions to explore new ways of integrating nature, biodiversity, and sustainability into their business model [5-7]. This can be through partnerships with like-minded entities, creating local programs, or actively working with suppliers and customers to build sustainable supply chains – have you thought about how your business can contribute to global goals?
Key Takeaways:
Protecting the world's biodiversity will mitigate climate change and build sustainable economies in developing nations [1, 2];
For businesses, this signals a change in momentum favouring purpose-led businesses, who should focus on green energy, climate and nature investments and improving employee wellbeing [7]; and
This provides opportunities for companies and institutions to explore new ways of integrating nature, biodiversity, and sustainability into their business model.
References
[1] High Ambition Coalition for Nature and People, 2022, "Why 30×30?".
[2] Simon Stiell & Matthew Samuda, 2022, "Caribbean 30×30 target: Protecting nature to protect future", Jamaica Gleaner.
[3] John Cannon, 2021, "Protected areas now cover nearly 17% of Earth's surface: U.N. report", Mongabay.
[4] Patrick Greenfield & Phoebe Weston, 2022, "Cop15: historic deal struck to halt biodiversity loss by 2030", The Guardian.
[5] Vincent Diringer, 2022, "The Importance of Sustainable Business Models", LEAD-WiSE.
[6] Vincent Diringer, 2022, "Net-Zero: The Future of Sustainable Businesses", LEAD-WiSE.
[7] Carolina Klint, 2023, "Global Risks Report 2023: How organizations should respond", World Economic Forum.
Human beings start learning with their first breath. Education is essential to acquire knowledge, the skills to survive, to develop one's full potential and integrate successfully into today's society.
Today 25% of the European Union's population is in the 0-24 age bracket [1]. Educational institutions are meant to inspire this age group throughout their childhood, teenage years and into early adulthood.
The concept of sustainability has evolved over the years – today, environmental and social aspects have become increasingly important, exemplified best by growing movements calling for better diversity and inclusion and work-life balance as well as movements such as me-too, BlackLivesMatter or Fridays for future. Many of these activities have been led by a young diverse generation through weekly demonstrations, heated debates and strikes. As a result, our society increasingly demands that companies and governments take responsibility in these areas [2].
Academia is fundamental to bridge the socio-economic divide of environmental and social sustainability competencies [2]. Childcare centres, schools and universities must continuously train their educators and staff with essential new skills, encourage to undertake research, and apply their content to their own internal sustainability practices to lead by example. As a knowledge broker responsible for a well-functioning and healthy society, it is necessary for educational institutions to adhere to, convey and execute an aligned mission, adjust curricula, adapt learning methods and change organisational behaviour towards sustainability. Academia must respond to these emerging, global trends with efficient resource management, new education models, training programs and behaviour to develop integrated, responsible and future world citizens [3].
Education is the most powerful weapon which you can use to change the world. – Nelson Mandela
How can academia successfully enlighten its children, pupils, students, educators and staff to innovate, inspire and actively lead the transition to an equal and balanced society while staying within planetarian boundaries?
Align your Vision & Mission
Any business or organisation must develop a strategy aligned with its purpose, vision and mission. Whether it is an early childcare centre or a highly ranked university, it all starts with a strategy allowing for a healthy organisational culture including social justice, democracy and sustainability embedded in the approach. Old frameworks included only the financial aspect of growth. The new leadership requires also considering the well-being and diversity of its people including educators, administrators, building managers, students, and community members as well as the physical environment embracing internal and external sustainable practices contemplating the impact on the planet as well as the classic. All three factors, social, environmental and financial, maintain a healthy balance of sustainable progress. A sustainably aligned and managed educational institution can improve its trust, reputation and progress financially better over the years [4].
Almost 80% of young people report being aware of climate change and global warming.

Young people need to develop scientific skills, digital skills, financial literacy and sustainability competences to be ready for the green transition .
OECD, How can education systems advance the green transition? [4]
Embody your curriculum and research through your vision and values
The European Union's ambitious 2030 Agenda for Sustainable Development aims to support the green transition of corporate organisations, enable constant scientific research, create new academic programmes, methodologies and curricula allowing to understand, engage and apply the new skills and learnings. This agenda treats social and environmental sustainability as a core value and pushes educational institutions to enhance their curricula and empowers students to become changemakers. Educators and researchers attracted by your school's purpose and vision will integrate their sustainability research findings in their teaching, delivering the content with passion.
Academia offering new skills through its programs will remain at the forefront of megatrends. Innovative programs and curricula will attract attention and lead to more admissions and prospects.[5]
Walk the talk – your internal sustainability practices
Sustainability requires a systems-based approach promoting collaboration across disciplines and departments, roles, and schools, to generate positive impact.
To apply what you teach, internal processes should align with your sustainability. Including members of faculty, educators, building maintenance, students and suppliers in this process, it will allow to overcome challenges more easily and transparently while not making it a sole leadership team's responsibility.
Processes could include revising the following procedures [6]:
Install internal recycling systems (recycling systems for plastic, metals, glass, paper)
Offer healthy food menus in your canteen and avoid food waste (buy local food, reduce meat, vegetarian-focused diet sourced from organic and local farmers, fewer food choices)
Implement a mobility policy (promoting shared and public transport, bicycles, walking)
Transition to low energy use appliances and green energies (computers, LED lights, heating without fossil fuels, solar panels)
Develop policies for sharing goods and encourage a Five R's Policy: Refuse, Reduce, Reuse, Repurpose and Recycle
Encourage children, pupils and students to participate in projects to value nature, foods and collaboration such as gardening, bread making, cooking, team sports, plastic clean-ups etc.
Sustainably managed institutions lead to innovative approaches allowing to save costs such as supplies, maintenance fees, energy as well as develop new business models. Lastly and more importantly, sustainable practices are life-sustaining and create value for all stakeholders in the community, not just the organisation itself.
Communicate, communicate, communicate
Communication is the primary tool for inspiring change, sharing the vision, prompting new behaviours, and recognizing accomplishments.
For your stakeholders to understand the institution's strategy behind all the activities around sustainability, transparent, consistent and concise communications through a variety of channels with a clear, authentic and consistent message. By including all stakeholders in your efforts, you encourage open conversations and highlight the benefit of your school's actions. [7]
As a result, your organisation reinforces its trust by translating its values into credibility.
Conclusion
Academia plays a vital role in the change of behaviour of our society. Childcare centres, schools, universities and business schools maintain constant contact with society. By nature, educational institutions are influenced by social and environmental issues and put their knowledge into practice to achieve sustainability of human systems.
Key Takeaways
Education remains at the service of humanity and represents one of the most important assets for equal rights, democracy and prosperity for our society.
Society engages with academia that corresponds to its values, has reputation for its mission and is trustworthy.
Sustainably managed knowledge brokers lead to innovative approaches allowing to save costs such as supplies, maintenance fees, energy as well as develop new business models.
References
[1] OECD Stat – Historical Population 2021
[2] The role of universities' sustainability, teachers' well-being, and attitudes toward e-learning during COVID-19, Melinda Timea Fülöp, Teodora Odett Breaz, Xiaofei He, Constantin Aurelian Ionescu, George Silviu Cordoş, Sorina Geanina Stanescu, July 2022
[3] LEAD-WISE – Sustainable change through education, Vincent Diringer, September 2022
[4] OECD, How can education systems advance the green transition?; Francesca Borgonovi, Ottavia Brussino, Helke Seitz and Sarah Wildi, September 2022
[5] The Centre for Green Schools, The whole school sustainability framework 2014 (PDF), Stephanie K. Barr, Jennifer E. Cross, & Brian H. Dunbar
[6] National Governance Association, Environmental sustainability. A whole school approach (PDF), June 2022
[7] Center for green schools
[8] Forbes, A brave new marker: Rising to the challenge of sustainability communications, Jessie Parker, 2021